Today was quite a game. Coming into today, if I'd known the final score was 9-0, I wouldn't have even bothered listening...I would've assumed
Brett Tomko
was shelled for 4 or 5 of the runs within his first 4-5 frames and the A's were held scoreless by the solid Burlingame native, and CSM alum,
Scott Feldman
, who likely pitched at least 7 solid innings before getting pulled to preserve his arm...but that's not what happened...Instead, Brett Tomko tallied his 100th win in brilliant fashion, as the A's were the victors of the 9-0 final. Brett Tomko continues to pitch well, in fact tonight that can be upgraded to"very well," for the A's, tossing his 14th career complete game, and just the second shutout of his twelve year career.
Ryan Sweeney
was undoubtedly the offensive star tonight, (though he's also honored with the A's defensive highlight of the game) bashing 3 doubles that earned him 3 RBI.
Adam Kennedy
,
Daric Barton
, and
Cliff Pennington
also had solid games with 2 base-hits each.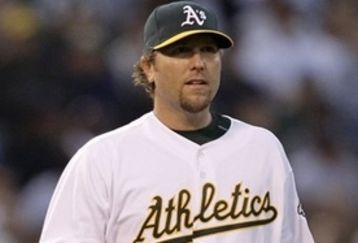 11:3 strikeout to walk ratio, 1.01 WHIP, 2.95 ERA, and a 4-1 record are the accolades that complement Tomko's tenure with the A's. His 100th win and 2nd shutout are two career marks he added today.
It will be interesting to see how Tomko performs in his next three starts, which will conclude his 2009 with Oakland. If he continues to perform, I don't see why the A's can't give him a shot in the spring. On the other hand, this is Brett Tomko. He's been pretty average his entire career, and unless whatever adjustment he made some part of the way through Sacramento (I'd heard he changed his arm angle, or changed something...I couldn't find where I heard or saw that though when I searched online so it may have been in an interview on the radio or television) then nobody should really expect much more than average. That's also something that needs to be remembered about Tomko...even with all these solid performances, he's always been average. Average pitchers can have good outings...even great outings. Average pitchers also have bad outings...even horrible outings. Guys like Tomko can ride a roller-coaster of solid outings and bad outings, but in the end the ups and downs amount to not a whole lot more than mediocrity. As for the apparent adjustment that was made to Tomko, (apologies for not remembering or providing a source) who knows if that's the cause of his excellent performance? Most of the time things like that aren't much more credible than the spring training cliche's we hear every March that explain why every player out there is a potential Cy Young or MVP because they gained 20 pounds of muscle and started doing pilates in the offseason. But sometimes they
are
performance changing adjustments, (for better or for worse).
It's hard to imagine a 12-year veteran just figured out the secret to good pitching at the age of 36...but things like that
do
happen...rarely. I'm not sure how many people know
Justin Duchscherer
's story too well. I know plenty of A's fans do, but if everyone else knew I'd assume it's a story that would be talked about a lot more. Though it's a feel good story that's somewhat soured by Duchscherer's current situation, it's nonetheless remarkable. Duke was an 8th round pick by the Red Sox in 96' and showed a lot of promise early on, but scouts were never thrilled about his inability to throw hard. Scouts lack of faith in Duke prompted his trade from Boston to Texas for career backup
Doug Mirabelli
in 2001. Later that season, he made his debut for the Rangers, and it appeared as though the scouts who doubted Duchscherer's ability to pitch to big-league hitters were vindicated. In 14 2/3 IP for the 2001 Rangers, Duke went 1-1 with a 12.28 ERA while he gave up 24 hits. This performance influenced another trade that, at the time, was quite under-the-radar. In the middle of the 2002 spring training, the A's traded reliever
Luis Vascaino
to Texas for Duke. This was only a move to add minor league starting pitching depth, as Duke was an inconsistent quadruple-A'er so far, at best. In his first 6 seasons of professional baseball, Duchscherer had stints with 18 different minor league teams, posting five sub-3 ERA's, four over 4 (including 2 over 5), and 9 more between 3 and 4. Those who follow minor league baseball know that guys like these are a dime a dozen...it's also not a mystery that minor leaguers lose value with every year they age. Duchscherer's first year in the A's organization was quite unimpressive, as he racked up a 5.57 ERA in 63 IP for Sacramento. The next year, however, was when he made people take notice. Going 12-2 with a 3.13 ERA is pretty solid in the Pacific Coast League, but having a 1.06 WHIP in 138 1/3 IP is fantastic. In all those innings, Duke allowed just 15 bases on balls, earning a call up to make a spot start for an injured
Mark Mulder
on September 9, 2003 against the Angels. He pitched 7 shutout innings (for dramatic effect, his wife-of-that-time gave birth to his son, Evan on that day) and he really never looked back...well kind of, with all the injuries. Duke would go on to earn 2 AL All-Star selections and is recognized as one of most efficient pitchers in baseball. He was 26 in his first full season with the A's (a little younger then Tomko) but 30 years old in his first and only season as a starter. That season, Duchscherer was the only pitcher in baseball with at least 20 starts to retire the side in order in more than half of the innings he pitched...While that story isn't exactly the same as Tomko's, it's proof guys can learn to pitch little later. Tomko's game's a bit different than Duchscherer's as he throws harder and walks a few more. However, Tomko
does
have good-lookin' 11:3 K-BB ratio, and a Duchscherer-like 1.01 WHIP with the A's. I also think it's noteworthy that with his last 5 teams, Tomko, who yields a career 1.37 WHIP, has had a 1.13, 1.53, 0.86, 1.26, and 1.01 WHIP, respectively.
Now all of that banter probably makes it look like I'm in favor of Tomko being apart of the 2010 rotation. What I'm in favor of is the A's having the best 5 pitchers they can possibly and realisticly have in the 2010 rotation that doesn't negatively effect any long-term plans. If Tomko goes 3-10 with a 5 ERA next year with another team, I'll be happy we didn't keep him...if he does that with the Athletics, I'll be upset we kept him. If he goes 13-4 with a 3 ERA with someone else, I'll be sad we let him go...if it's with us, I'll be happy. I honestly can't say whether or not it would be good to keep Tomko. While I presented a decent side in favor of keeping him, I completely acknowledge the other side of the argument...in fact I'd say I'm more in favor of letting him walk rather than bringing him back (that ideas tentative and weighs a little on how his final three outings go). My reason being, the A's rotation is a full 5 without Tomko. I don't know how much Mazzaro and Gonzalez will mature in 1 season, but either way, having a 36 year old in the rotation takes innings away from those guys that could be developing. Even without Tomko, looking at next years rotation is tricky.
Dallas Braden, Brett Anderson, Trevor Cahill, Vin Mazzaro
, and
Gio Gonzalez
...yeah that's 5, but what about
Josh Outman
? He's apparently recovering well and while he probably won't be ready by spring, he's certainly going to be ready at some point in the first half of the season. Obviously the picture should be a lot clearer by then, and we'll be able to see if anyone of the young pitchers may benefit by more seasoning in the minor leagues or maybe they'll all be ready next year. Odds are it's incorrect to assume they'll all be ready by next season...and there is even a good chance one or more of them will never be true big league pitchers...but it's also more than likely a couple of them are going to be really good...And it's not impossible for that to happen by next season.
One more thing I wanted to add...I was thinking about how the A's have been scoring a lot more as of the All Star Break, and I thought I'd see what those averages I looked at in my previous article have been since then.
While I should mention
Matt Holliday
and
Orlando Cabrera
have OPS' of 1.235 and .903 in their brief time in green and gold after the break, it's actually a lot more encouraging when you look at the rest of the teams performance too.
Here's everyone above the .751 OPS average post All-Star...
Landon Powell
's post All-Star OPS is .889, highest on the team.
Rajai Davis
' is .867, the highest of the every day players.
This one's quite the shocker...
Bobby Crosby
has an .831 OPS after the break.
Jack Cust
, one of the three whose full-season OPS is above the Major League Baseball average has an .828 OPS, .064 points higher than his full-season OPS.
Mark Ellis
, whose slightly-below-average OPS I excused because of his superior defense, has a very productive .816 post-break OPS...now he's contributing from both sides!
Ryan Sweeney is at .812...those three 2-baggers from tonight helped I'm sure. There's no doubt he's been hitting a lot better lately though.
...And finally, Cliff Pennington at .765. We can't expect this to last, as Pennington's just a .263 career minor league hitter with his career minors OPS at .720. Plus he's got 4 bombs in just 130 AB's with the A's, when he had just 3 home runs in Sacramento with 360 AB's. I will say he's plus on defense and I'll take him over Crosby.
Daric Barton's on the cusp at .749...If he can just be that guy we all heard about before the 2008 season...He always walks more than he k's and he's hit at every level...except the Major Leagues. The downside is that Barton's consistent good hitting in the minors has only been succeeded by consistent bad hitting in the Majors. Maybe a battle with
Chris Carter
and/or
Sean Doolittle
for first base in the Spring will do him good...at least we know it will probably do the A's better.
That's all for now...excuse any spelling or grammar mistakes, this took a lot longer than I expected and I don't feel like reading it again.